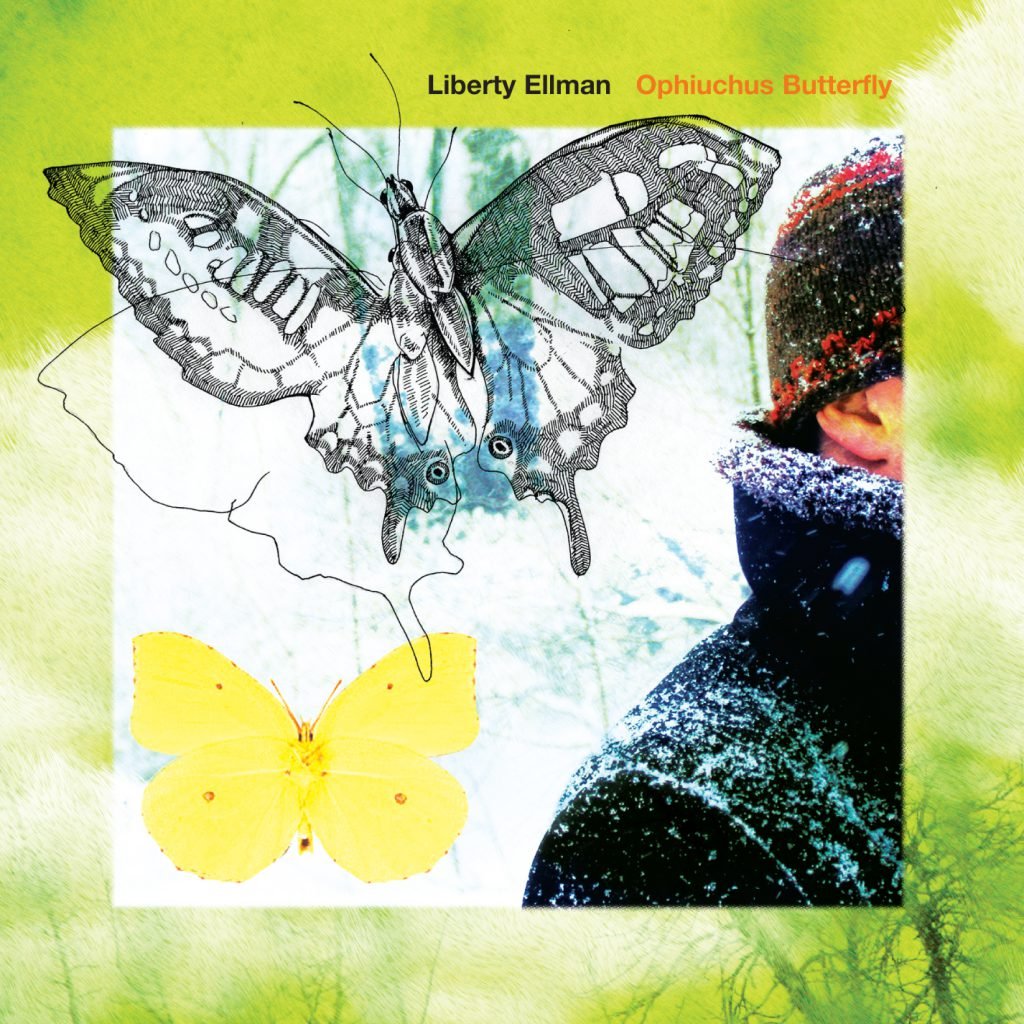 Ophiuchus Butterfly
Liberty Ellman
Track List
Ophiuchus Butterfly

6:33

Aestivation

6:56

Snow Lips

4:09

You Have Ears

6:35

The Naturalists

1:51

Pretty Words, Like Blades

4:34

Tarmacadam

7:08

Looking Up

7:58

Chromos

8:48

Borealis

3:05
"The music of the guitarist and composer Liberty Ellman is complex, meticulous and challenging. But it's also groovy, contemporary and sleek."
— Nate Chinen, New York Times
"Ophiuchus Butterfly finds Ellman digging deeper into eccentric and progressive territories with a sextet of like-minded artists with distinct voices."
— Mark F. Turner, All About Jazz
"Each of these tunes is smoothly executed, evoking the image of a jagged but sharp, clean knife slicing through a five layer cake."
— Sam Prestiani, Jazziz
Guitarist/composer Liberty Ellman's second Pi recording as a leader, Ophiuchus Butterfly, is an initially striking and ultimately deeply satisfying set chronicling six musicians, ten pieces and one ambitious, personal and utterly mature sensibility. Ellman's guitar ability and style are undeniable here, but this isn't a "guitar" album.
"I'm interested in making a solid album from start to finish with regards to the writing, ensemble and the quality of the recording. It's more than just a document of the moment in this case. To me, guitar chops are only a piece of the puzzle. However many guitar solos fit into the larger scheme is just determined by what the music requires."
The music, in any case, is remarkable. Whether its the tight ensemble playing, rigorous writing, dazzling counterpoint and dauntingly propulsive no, make that just plain funky grooves of "Tarmacadam", or "Ophiuchus Butterfly", the rich, eerie harmonies of the postmodern blues ballad "Aestivation", or the electronic/acoustic hybrid sound experiments of "Snow Lips" or "Borealis", this are bracingly original, detailed compositions performed by a sextet that's more than equal to their technical and emotional demands.
"I've been trying some music that has a more ambitious, composed element to it, and I wanted to expand the ensemble a bit to achieve certain textures," Ellman recalls, "including having a really thick low end, which can emphasize the groove. The bass and the tuba are sometimes doubling and other times complementing each other underneath what's happening with the horns and guitar. The alto, tenor and guitar play these interlocking melodies and create this rich, contrapuntal fabric."
While this is quite definitely ensemble music, its still music that lets the individual players express their personalities in its roiling, shifting structures — Ellman and saxophonists Steve Lehman and Mark Shim passing melodies back and forth, tuba player Jose Davila and bassist Stephan Crump doubling low-end lines or playing complementary but discrete parts, and drummer Gerald Cleaver acting as the fulcrum around which the pieces effervesce.
And everywhere that remarkable marriage of demanding compositional harmony and body-moving rhythm. "What I would hope to capture in some of this music is the presence of a really powerful and hypnotic rhythm with this exploratory and informed harmonic and melodic structure on top," says Ellman. "There's an intellectual feed but also a groove you could dance to."
"Music," he smiles, "that can bob your head and raise your eyebrow at the same time."