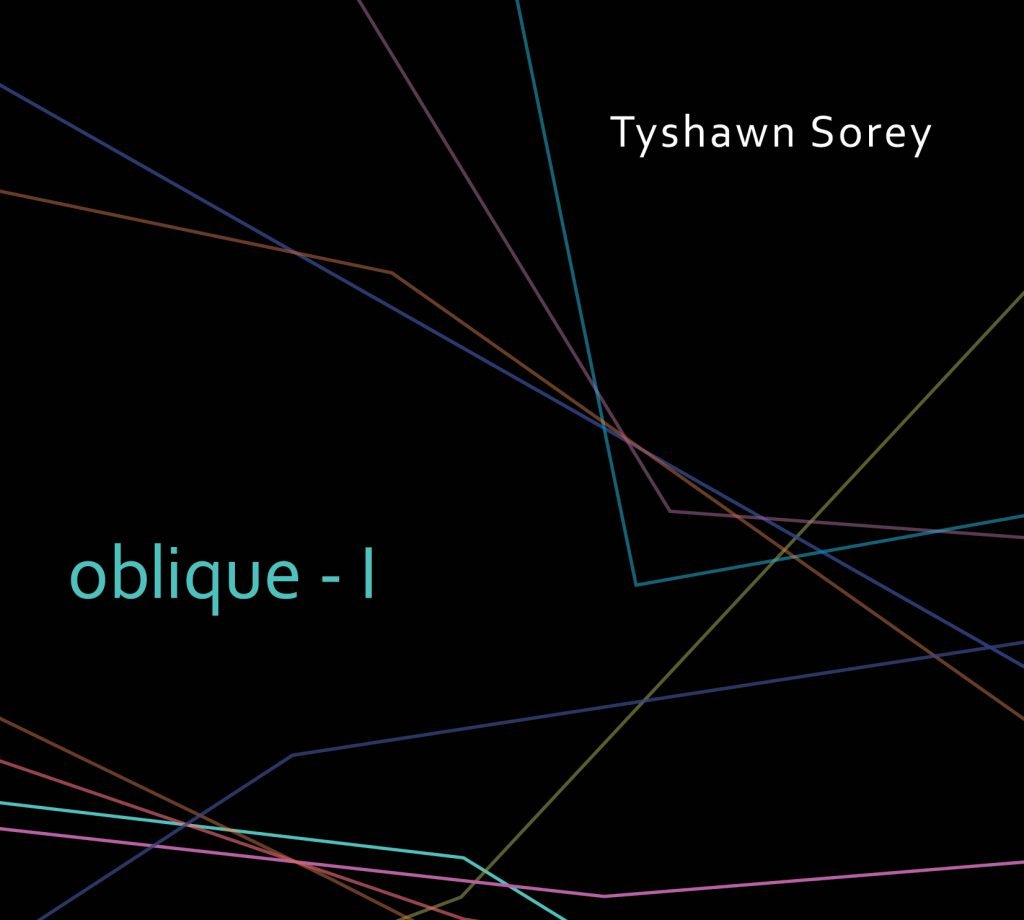 Oblique-I
Tyshawn Sorey
Track List
Twenty

7:24

Eight

3:40

Thirty-Five

11:00

Eighteen

4:50

Forty

6:00

Twenty-Four

6:52

Seventeen

8:47

Twenty-Five

8:58

Fifteen

12:03

Thirty-Six

7:00
2011 Rhapsody Jazz Critics Poll Record of the Year #17
"Sorey's drums act as flexible fulcrum, parsing time signatures one moment, pivoting to floating pulse patterns the next. That kind of power and versatility wedded to precision recalls drummers like Paul Motian and Hamid Drake, though any semblance of slavish imitation is completely out of Sorey's scope." — Dusted reviews
"One of five drummers whose time is Now….
A spectacular young drummer on jazz's leading edge, Mr. Sorey has proved himself a serious new-music composer besides, sometimes to the point of cerebral severity. But Oblique-I just out on Pi, is a riveting album, with compositions custom designed for the same musicians found here." — New York Times
"Oblique I, is mostly the kind of rollicking band album you'd expect from a powerhouse drummer. His melodies are complex and full of surprises, but often light on their feet. Leading by example, Sorey is helping to heal an old rift in contemporary jazz, between musicians for whom swinging is everything and those also interested in other kinds of rhythmic subtleties and complications. His quintet/quartet plays twisty, turny rhythms that surge ahead and then fall back, typical of jazz's left flank. But under those zigzag lines, Sorey's drums barrel along like a runaway tractor trailer. He makes those tricky patterns move." — NPR
"Oblique-I is a mild revelation…the first full length album to feature him wearing both the improviser and composer hats. We get a taste of the lean and lightning quick stick work deployed as a member of bands lead by both Steve Coleman and Steve Lehman, yet its Sorey's compositional skills that unequivocally remain the focus." — ★★★★ Downbeat
"It's of paramount importance that he's covering improvisation of the most intuitive… as well as being attuned to finely-detailed composition. He seems to be at once a primitivist outsider and a studied formalist." — All About Jazz
Oblique – I, the highly anticipated new release from drummer/composer Tyshawn Sorey, delivers what his fans have long been seeking: an album that combines his virtuosic playing with his compositional mastery. Named one of "Five Drummers Whose Time is Now" by The New York Times, Sorey recently received his MA in Composition from Wesleyan University where he studied with Anthony Braxton. He is currently a Doctoral Fellow in Composition at Columbia University studying with George Lewis, where he is one of a select number of jazz musicians (along with saxophonist Steve Lehman) to be accepted into this prestigious program. To date, Sorey's drumming has been heard to its fullest effect on recordings with the collaborative trios Fieldwork and Paradoxical Frog; with saxophonist Steve Lehman, including on the landmark Travail, Transformation, and Flow; and with saxophonist Steve Coleman in his band Five Elements. On each of his two prior releases as a leader, That/Not and Koan, which are heavily influenced by the composer Morton Feldman, he seems to willfully play down his instrumental chops, often playing in an extremely minimalist fashion while giving full emphasis to the exploration of space.
Oblique – I is a completely different story. Made up of ten pieces chosen from a collection Sorey calls 41 Compositions, the CD shows off his dynamic playing in a creatively varied program with pieces that feature hummable melodies, chord changes, solo improvisations, indeterminate harmonies, open improvisational strategies and variable form all wrapped up in layers of rhythms. It is Sorey's most diverse album yet.
A conversation with Anthony Braxton in 2002 served as the original impetus for Sorey to create this body of work. These pieces, composed between 2002 and 2006, were honed with a group of musicians including many on this recording who played frequently with Sorey under the band name Oblique around New York. The music of Arnold Schoenberg, Béla Bartók, Henry Threadgill, Karlheinz Stockhausen, and Steve Coleman figured strongly on his work during this period. Oblique – I was recorded in one marathon 13-hour session, with the more intricate compositions ("Twenty", "Forty," and "Fifteen") requiring over an hour each to get the right take. The musicians guitarist Todd Neufeld, alto saxophonist Loren Stillman, keyboardist John Escreet, and bassist Chris Tordini tackle this complex material with aplomb, investing these compositions with verve and conviction, amply demonstrating why they are among the most highly regarded young musicians on the scene today.
Perhaps no higher praise can be given to Sorey than the esteem with which his collaborators in the band Fieldwork hold him. Pianist and composer Vijay Iyer has said: "Tyshawn is an artist who thinks for himself, creating deeply innovative, resonant, and personal work. Simply put, he is poised to become one of this century's most significant American musicians. What has consistently struck me about his work, above and beyond its level of technical accomplishment, is a deeply felt resonance with the materials. Even the most austere forms are brought into profound relief by the passion and conviction with which he imbues them. His work keeps broadening and deepening as he expands his arsenal of compositional techniques and continues his restless experimentation." Saxophonist and composer Steve Lehman stated: "Tyshawn Sorey is the most brilliant composer/percussionist of his generation. Possessing both perfect pitch and a total-recall-like ability to absorb massive amounts of musical information, Tyshawn has continually found ways to assimilate and transform ideas from a broad spectrum of experimental musical idioms, developing his own compositional voice in so doing. Whether making creative use of space and silence when writing for mixed chamber ensembles, or demonstrating uncanny compositional control over impossibly complex rhythms and elaborate contrapuntal textures, Tyshawn has consistently found ways to define an innovative and meticulously crafted sound world."
Oblique – I reflects Sorey's desire to display a wide range of his compositional skills. He speaks often of his wish to dismantle the perceived contradiction between composition and improvisation and to further the notion that master musicians should both compose and perform at the highest levels. The continuation of his compositional studies at Columbia University demonstrates this ongoing commitment. Sorey felt that it was important to document these compositions at this juncture in his career; it is as if he wanted to make sure that the past is not forgotten, because there really is no predicting what is next to come in his already surprise-filled career.
Sorey has played drums on more Pi Recordings releases than any other musician, so it only makes sense that he is the first drummer to release a record as a leader for the label. That said, he was certainly not chosen by default; Sorey exemplifies everything Pi seeks: a master instrumentalist, a composer of conceptual seriousness and defined creative aesthetic, and a bandleader who brings out the best from his fellow musicians. Oblique – I successfully delivers on all these points, making it the finest showcase to date of Sorey's wide-ranging talents.