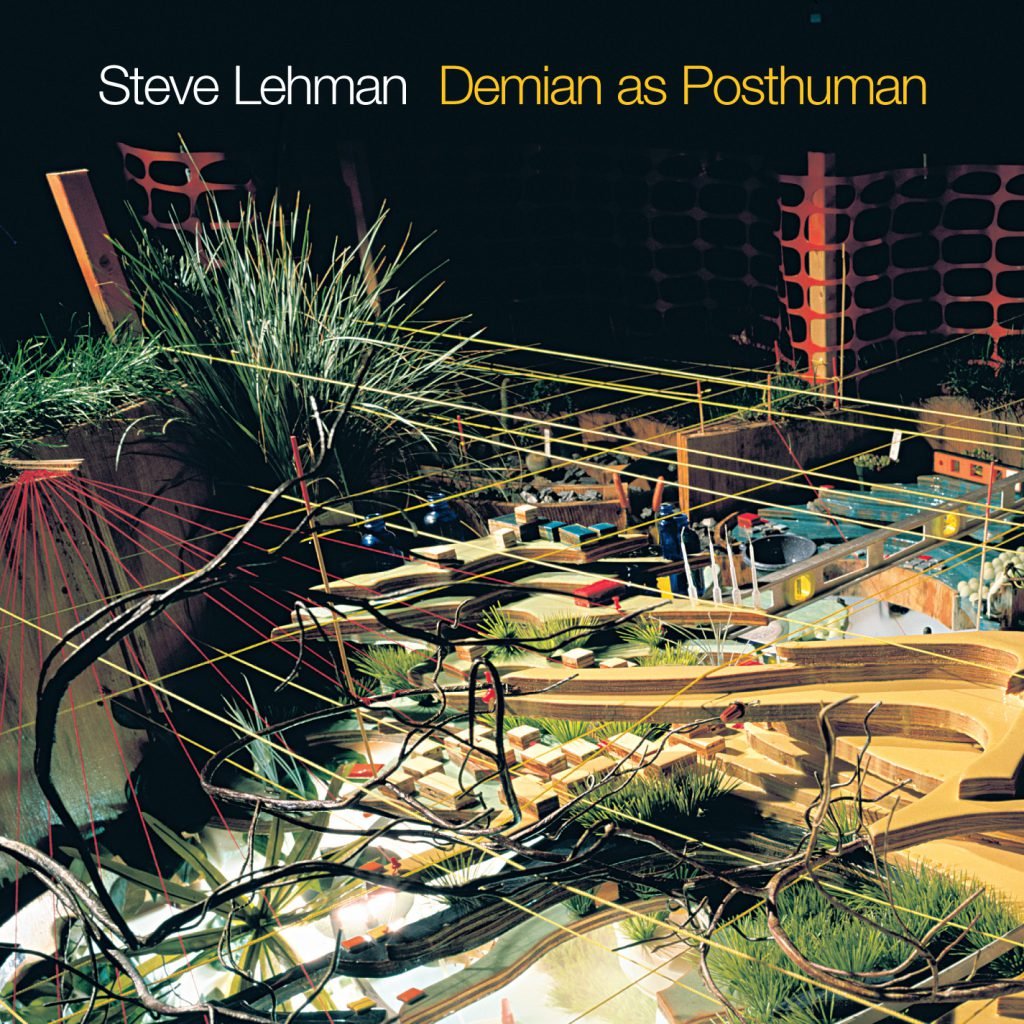 Demian as Posthuman
Steve Lehman
Track List
Vapors

2:10

Demian

5:56

Damage Mobility - Acoustic

1:17

Damage Mobility

3:55

Cognition - Curtis Duncan

2:33

Cognition - Drew Hill

2:33

Logic - Meshell

2:58

Logic - Tyshawn

2:39

Cognition - Ernest Givens

2:36

Cognition - Haywood Jeffires

2:11

Emphonic

4:06

Community

3:29
"The vibe is vaguely menacing; but, overall, it's vivid and incessantly engaging music."
–Bill Shoemaker, Point of Departure
"The compositions, musicianship and overall conceptual attack of Demian as Posthuman make it a complete success."
— Paul Olson, All About Jazz
  Pi Recordings is pleased to announce the release of  Demian as Posthuman, the highly anticipated new release by Steve Lehman, and his first as a leader for Pi Recordings. Hailed as one of today's truly original new voices by publications as diverse as "The Wire", "Jazz Times", and "The Village Voice", Lehman's first CD for Pi Recordings comes on the heels of a string of successful recordings for the leader in other contexts and stands as his most unique offering to date. In the summer of 2005, Steve put together a quintet of Vijay Iyer (P), Jahi Lake (DJ), Eric McPherson (D) and nine-time Grammy nominee and mother of neo-soul Meshell Ndegeocello (B) to record an abstract set of groove-oriented compositions. That session yielded three tracks: "Vapors," "Logic Meshell" and "Community." That was followed by work with producer Scotty Hard on the album's nine remaining tracks which feature Tyshawn Sorey (D) and Lehman in a wide variety of electro-acoustic settings that include the multi-tracked saxophone quartets of "Damage Mobility" and the elaborate contrapuntal writing of "Demian. Following the recordings, the tracks were molded and crafted by Scotty Hard, who adds his distinctive sound to the entire project. The result is a well-balanced mix of live spontaneity and studio crafting — innovation and execution.
The quintet's sound is informed by hip-hop, modern electronica, contemporary chamber music and the African-American creative tradition. The group favors an ambient, non-soloistic model of interaction and creates an ever-evolving groove around Meshell's unmistakable rock-steady foundation and Steve's abstract lyricism. The pieces recorded with Tyshawn represent a sound world all their own and showcase Steve's unique electro-acoustic vision. Steve's programming and Scotty's engineering/producing result in a constantly morphing sound that reveals new layers with each listen. As a whole, the album embraces the new resources of modern electronic music while remaining indebted to the highly visceral tradition of modern day masters such as Jackie McLean, rapper Aceyalone and composer/pianist Michael Finnissy. That said, the CD's sound, whether it be the compositions or the individual contributions of the musicians, occupies a creative space all its own.
"Demian as Posthuman" recalls a period when a composer could record an album that reflected his full range of interests — think Anthony Braxton's New York, Fall 1974 — inspiring inquisitive listeners with the breadth of his creativity. It also cements the fact that a new genre and sound in creative music, drawing from both modern jazz and modern electronica, has fully arrived. Far from simple hybridism, "Demian as Posthuman" represents a cutting-edge electro-acoustic sound world that sounds like nothing else. What the CD does most effectively is introduce one of todays most compelling compositional voices: Steve Lehman.