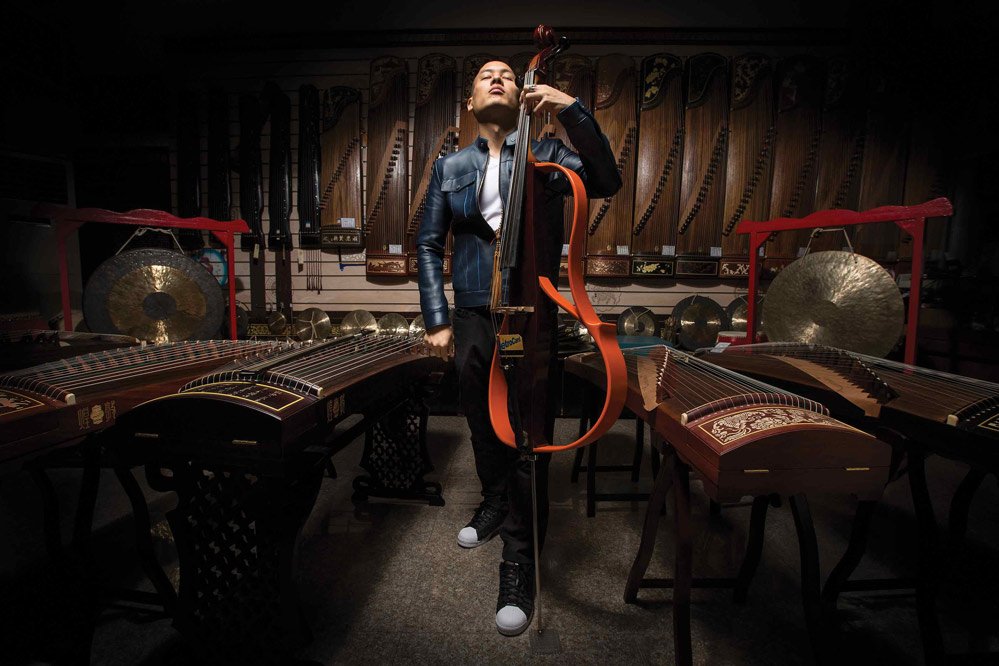 Dana Leong
Electro-jazz cellist/composer Dana Leong fuses hip-hop, jazz and electronics to create a signature boundless sound. Often referred to as a "hi-def Yo-Yo Ma," Dana has revolutionized the cello with his cutting edge amplification, lyrical melodies, and collage of jazz textures and improvisations. Whether as a performer, composer, collaborator, or recording producer, Dana's exploration of electronic music and ethereal jazz sensualities has garnered critical acclaim worldwide.
As bandleader/composer, he heads The Dana Leong Band featuring Dana (cello/trombone/laptop), Aviv Cohen (drums), Adam Platt (keyboards), and MC Mtume Gant a.k.a. Core Rhythm (rap vocals). The group's unique blend of electronic hip-hop, jazz funk rhythms and rock propulsions is a sonic representation of Dana's hybrid artistic vision. Dana, an Asian American artist of Chinese and Japanese descent, and his band were selected from a national pool of applicants to represent American music overseas as part of The Rhythm Road: American Music Abroad program. Produced in conjunction with Jazz at Lincoln Center and the U.S. Department of State Bureau of Educational and Cultural Affairs, The Dana Leong Band serves as one of the country's urban music quartets that best reflects the talent and diversity of musicians from across the United States. They recently completed their sold-out tour throughout Asia, which culminated at New York City's Dizzy's Coca-Cola Club in April 2008.
Described as crafting "lines of sublime lyric content" (Chicago Tribune), and "sizzling, highly stylized solos" (Philadelphia Inquirer), Dana has held roles as both a performer and composer with top artists including: the 2006 Grammy-nominated jazz chamber trio led by Paquito D'Rivera (where he fills a chair frequented by Yo-Yo Ma); the 2007 Grammy-nominated Dafnis Prieto Absolute Quintet; and has worked with Ray Charles, Diddy, Kanye West, Wynton Marsalis, Yoko Ono, and more. Following his successful debut release Leaving New York (featuring Grammy Award winners Christian McBride and Paquito D'Rivera), Dana recently released his latest recording Anthems of Life. "It is actually comforting that an artist of this generation has instilled his poetry with universal vision," raves All About Jazz. "A vision that permeates the state of art, music, race and the world to lift them up and bring them to an attention that is broad, and not simply for a select few."
On screen, Dana has acted and performed on screen in a number of different settings such as Steven Spielberg's feature film The Terminal, Robin Williams' August Rush, NBC's Law & Order, The Today Show, and with The Roots "Live at Wetlands." Dana has even performed for fashion shows including designers Alexander Hercovitch and Dianne von Furstenberg.