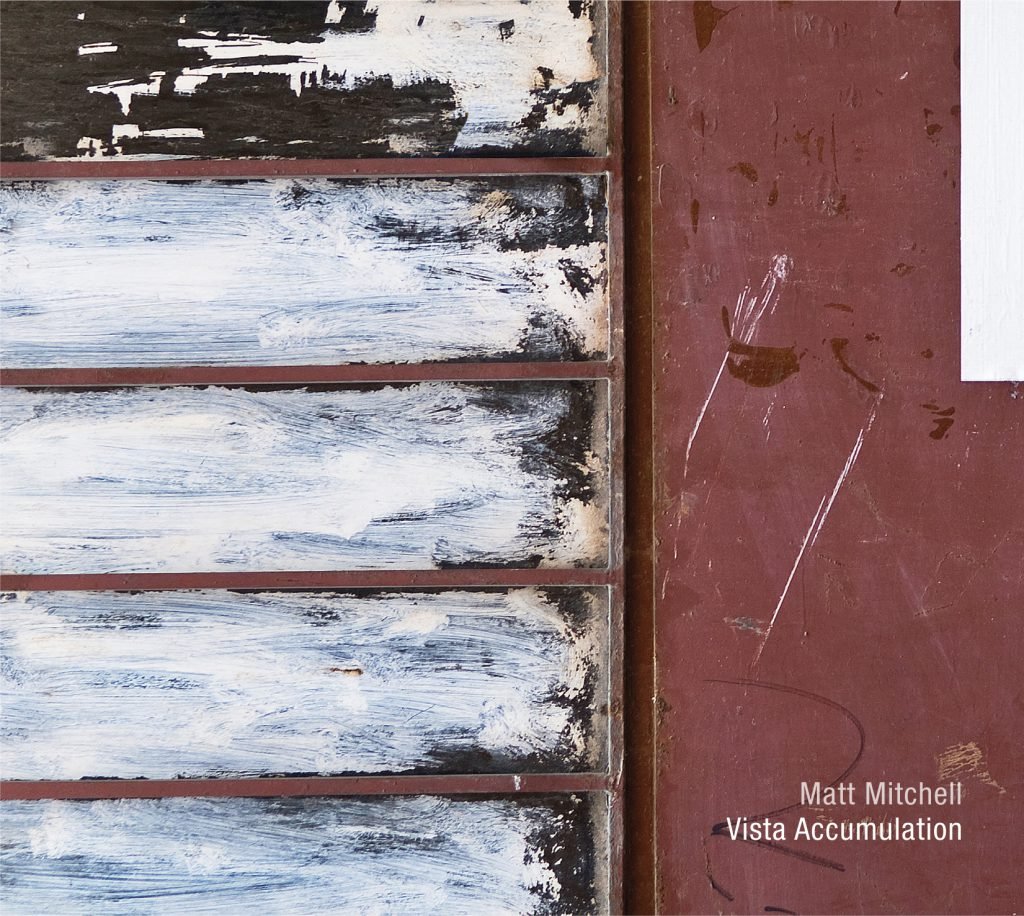 Vista Accumulation
Matt Mitchell
Track List
Select Your Existence

15:30

All the Elasticity

8:44

Numb Trudge

16:24

'twouldn't've

8:40

Utensil Strength

16:47

Wearing the Wig of Atrophy

7:49

Hyper Pathos

10:00

The Damaged Center

12:29
Matt Mitchell, a 2015 recipient of the prestigious Doris Duke Impact Award, is one of the most in-demand pianists in jazz. As a member of Tim Berne's Snakeoil, the Dave Douglas Quintet, Rudresh Mahanthappa's Bird Calls, John Hollenbeck's Large Ensemble, and the Darius Jones Quartet, among many others, he has played an integral role on a number of the most critically-acclaimed releases of the last few years. Highly regarded for bringing contemporary classical music influences to his playing, his debut as a leader, Fiction (Pi 2013), a duo with drummer Ches Smith, was described by All About Jazz as "… huge quantities of brain candy, akin to a shot of adrenaline that will keep the willing listener on the edge of his or her seat."
His new release, Vista Accumulation, spends much of its time contemplating the jazz tradition while continuing to expand on possibilities for interaction between composition and improvisation. While Fiction mostly included short pieces that were originally conceived as etudes to expand Mitchell's pianistic facilities, the compositions on Vista Accumulation — eight of them spread out over two CDs — use longer forms. They flow with a narrative arc, constantly unfolding, alternately worrying over small repetitive gestures before expanding to wide vistas. The detailed music consists as much of continuous, constantly evolving collective playing as it does a succession of solos. It has the feel of contemporary classical music, with references to Morton Feldman and Harrison Birtwistle, and yet there are several ballad-like moments, as well as fractured echoes of the blues. The New York Times, who in 2011 named him one of "four young jazz pianists on the rise," calls the music "… a bold signature for [Mitchell] as a composer and bandleader, one rooted in avant-garde traditions that encompass not only improvising pianists like Andrew Hill and Keith Jarrett but also classical modernists like Anton Webern and Charles Ives."
The music is performed by his quartet, made up of some of the most respected musicians on New York's cutting-edge jazz scene: Chris Speed produces a soft timbre on tenor saxophone that harkens back to Lester Young and a gorgeous tone on clarinet while playing with a thoroughly modern sensibility. One of the under-sung heroes of jazz, he co-leads the bands Endangered Blood, Pachora and Human Feel, while also playing in John Hollenbeck's Claudia Quintet and Craig Taborn's quartet, as well as formerly Tim Berne's Bloodcount. Bassist Chris Tordini, who has appeared on the Pi Recordings releases Oblique I (2011) and Alloy (2014) from drummer Tyshawn Sorey plays with a huge, warm tone and an insightful ability to act as the glue for all the musics parts. Drummer Dan Weiss who released his own critically acclaimed Fourteen on Pi in 2014 and plays with the likes of Rudresh Mahanthappa, Lee Konitz, and Dave Binney plays with great spontaneity and a highly varied compositional sense. Mitchell's own supremely inventive playing encompasses a wide vocabulary of influences that are impossible to pinpoint. Paying unusual attention to dynamics of touch and exhibiting his hallmark of rhythmic and harmonic convolution, every one of his solos is the sound of constant surprise.
Sometimes one gets the best sense of a musician from talking to his peers. Asked why he invited Mitchell to join his Bird Calls band for his eponymously-named album that was voted "#1 Best Album of 2014" in the Downbeat Critics Poll, alto saxophonist Rudresh Mahanthappa said "Matt is one of the most versatile and original voices on the piano of this decade. He has digested the entire jazz tradition whole and synthesized that with a far-reaching knowledge of all musical genres. He is an unstoppable force who will continue to shape this music well into the future." Drummer and composer John Hollenbeck on why Mitchell is in so many of his bands: "Since I'm often trying new things, I often run into musicians saying 'I cant do that,' 'this is not possible,' etc. I'm looking for people who say, 'Let me try this!' Matt Mitchell is this type of musician. He loves challenges and plays up to them consistently. He is creating a new level of musicianship for his fellow pianists to contend with."
Etched with lyricism and emotion,Vista Accumulation affords a whole new view on Mitchells musical mastery.