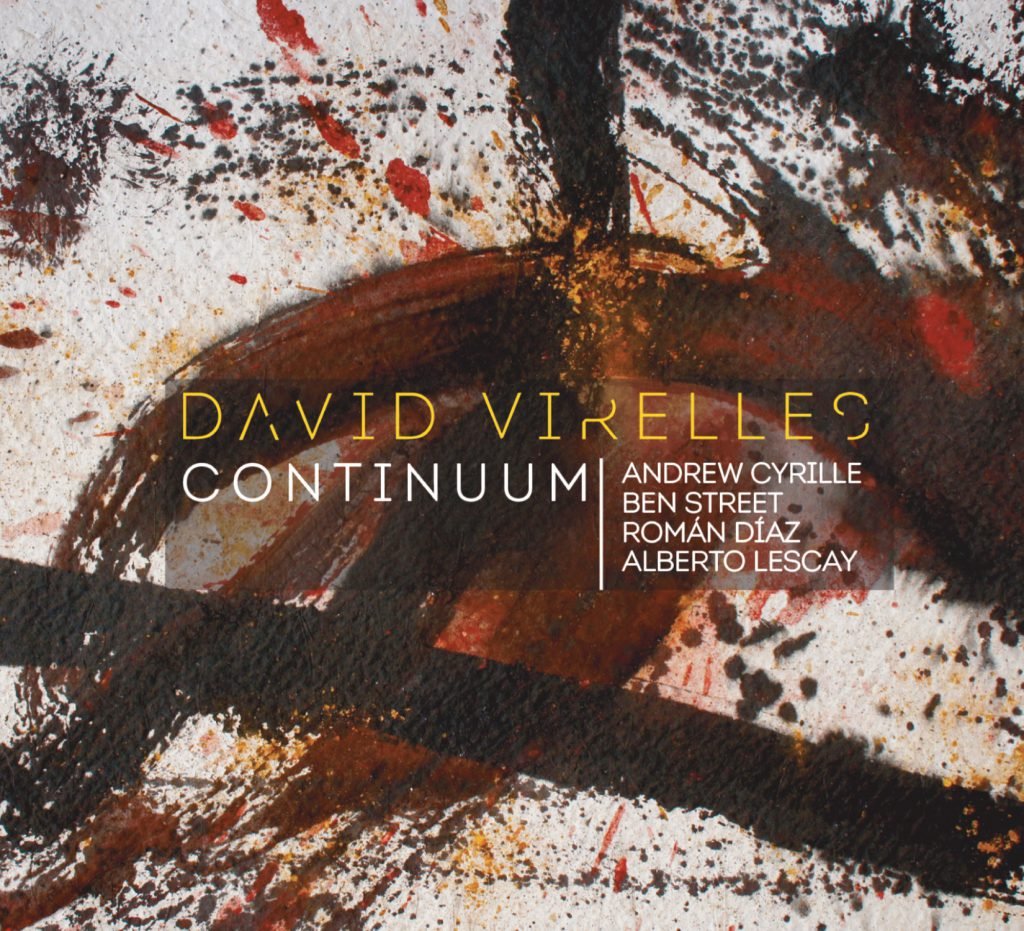 Continuum
David Virelles
Track List
To Know

1:55

Mañongo Pabio

3:49

Threefold

5:06

A Celebration, Circa 1836

2:42

Short Story for Piano

1:19

Our Birthright

7:50

Royalty

2:08

Unseen Mother

1:47

Spectral

2:04

The Executioner

6:23

El Brujo and the Pyramid

3:16

One

3:26
"Mr. Virelles is one of several Cuban musicians living in New York who have fully absorbed the environments of two islands, Cuba and Manhattan, and now exert influence through subtle innovations as sidemen and bold strokes as bandleaders." -[The Wall Street Journal], Larry Blumenfeld
"His album Continuum… features musicians of multiple generations; it also weaves in computer-generated textures, poetry (in Spanish as well as Afro-Cuban religious languages) and the abstract paintings of Alberto Lescay. Its a back-to-the-future recording, a work of mystery." -[NPR Music], Patrick Jarenwattananon
"While the disc might frustrate those seeking a casual encounter of the jazz kind, its rewards a deeper, more holistic engagement, a listeners leap justified by Virelles steely commitment to forging something personal and even visionary from primal, timeless inspirations." -[Ottawa Citizen Jazzblog], Peter Hum
"The ambition of infusing the rich cultural tapestry of Cuba with the loosely composed and performed music of New York progressive jazz and even in some instances, the highly ordered tenets of European classical music, is attained for David Virelles. Only he knows where hell go from here, but with Continuum, he's already made his own personal mark on avant garde jazz." -[Something Else Reviews], S. Victor Aaron
Recently named one of four young pianists on the rise by the New York Times, David Virelles makes his Pi Recordings debut with Continuum, a collaborative effort with legendary drummer Andrew Cyrille, bassist Ben Street, and Cuban folkloric percussionist/poet Román Díaz. Virelles has in a short time become one of the most in-demand pianists in jazz, working in the bands of saxophonists Steve Coleman, Chris Potter, Ravi Coltrane, and Mark Turner. He will be appearing on upcoming releases with Potter and trumpeter Tomasz Stańko, both on ECM. Continuum is his second album as a leader and the first since moving to New York in 2009. Rather than focusing on the sort of bravura displays of pianism one might expect from a young pianist, the album is instead an episodic meditation on the power of Afro-Cuban folkloric traditions that fully reflects his open-minded interest in the confluence of music and other art forms.
Born and raised in Cuba, the 29-year old Virelles grew up in a musical family: his father a singer-songwriter and his mother a flautist in the Santiago de Cuba Symphony. He started studying classical music at age seven, as well as being exposed to the large array of musical forms on the island. Virelles' discovery of his grandfathers jazz record collection helped him become interested in that tradition. In 2001, he left for Canada as a protegé of reedist Jane Bunnett, who has a track record of identifying promising Cuban musicians. He recorded several albums with her, including two that were nominated for the Grammys. He is a graduate of the music program at Humber College in Toronto where he was the recipient of the first-ever Oscar Peterson Prize, which was presented to Virelles by Peterson himself. His debut release Motion came about as the result of his winning the Grand Prix de Jazz award at the 2006 Montreal Jazz Festival. He has studied privately with pianist Barry Harris and also sought out such iconoclastic musicians he admired as Steve Coleman, Henry Threadgill, Stanley Cowell, and Muhal Richard Abrams. In 2009, Virelles made the move to New York to study composition with Threadgill. Virelles says of these musicians: "I have always admired people who I consider to be individualistic in their artistic pursuits. There is no distinction between their art and their personalities and lifestyles; everything is consistent. With them, you cannot define where music making starts or ends because it is just part of their being, and they always seem to be exercising their creativity."
The music on Continuum is inspired by Cuban folklore, specifically Afro-Cuban ritual practices as embodied by its music, poetry, storytelling, dance, symbols, art, divination and magic. Virelles traveled to Cuba in 2011 to do research in an effort to gain a deeper understanding of how music functions within that setting. "My main goal with this project was to create a work that would feature sociocultural interaction", Virelles says. "By that I don't mean that I'm trying to revisit or reproduce a particular tradition. Instead I am interested in finding out why people express themselves through folklore in the way that they do, and how I can embody that in my music." This is most obviously manifested by the presence of the poet and percussionist Román Díaz, who brings a direct connection to these cultural traditions. Díaz, a former member of Yoruba Andabo, which is one of the most representative folkloric groups out of Cuba, brings a theatrical element to the music and his performance. His poetry, which is in Spanish as well as ritual languages from the three main cultural lineages of African origin found in Cuba: Karabal, Kongo and Yorb-Lucum, infuses the proceedings with an air of drama and mystery.
Virelles also thought hard about the other musicians he wanted to collaborate with on Continuum. He has admired bassist Ben Street's playing from their experience working together in a number of groups, including Mark Turner's band. It was also Street who first suggested Andrew Cyrille for the band. "The first time I heard Andrew was on Cecil Taylor's Unit Structures and I've been a huge fan ever since. I imagined that he would bring a lot to the music because of the depth of his sound, his understanding of rhythm, and the sense of storytelling in his playing. Andrew is of Haitian descent, and I can hear that in his music." It was also important to Virelles to work across generations: "I wanted to have access to the kind of experience that people like Andrew have, and I was very curious about what kind of music this particular combination of personalities would create." Also performing on the album, on the track Our Birthright, are the saxophonists Román Filiú and Mark Turner, and trumpeter Jonathan Finlayson.
To further explore the relationship between music and other art forms, Virelles collaborated with the renowned Cuban painter and sculptor Alberto Lescay whose public sculptures and memorials can be found throughout Cuba on a series of twenty paintings that are inspired by the music of Continuum and a trip the two took together to the Cuban-Haitian community of San Felipe de Thompson in Santiago de Cuba. Those paintings can be seen at: www.davidvirelles.com.
Virelles says of his music: My goal is to strip everything down to its essence and bring expression to the fore. I want it to be organized and structured yet still feel improvised and spontaneous. What he has created is a mature, fully realized work that plays out in a narrative arc filled with mystery and lyricism.