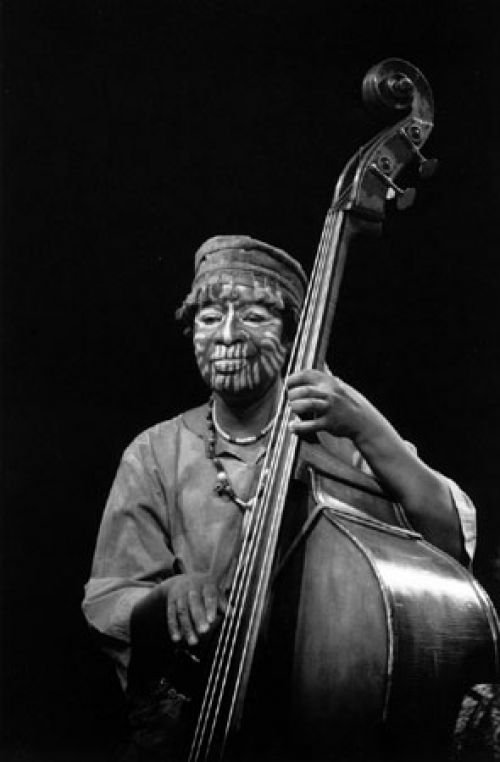 Malachi Favors Maghostut
Best known as the bassist for the acclaimed avant-garde ensemble the Art Ensemble of Chicago, Malachi Favors kept a fairly low profile, though he was an essential element of the group's artistic success. He seldom soloed, though he did occasionally write for the band. Favors contributed vocal effects and plays, in addition to bass, a range of auxiliary instruments such as zither, banjo, and harmonica. It was Favors who first suggested the band wear African face paint and clothing (a practice taken up by Favors, saxophonist Joseph Jarman, and drummer Don Moye). Most importantly, Favors was a solid team player — hard-swinging and possessing a large, rubbery bass sound in addition to a well-developed sense of his place in the ensemble.
Born and raised in Chicago, Favors began playing the double bass at the age of 15. By the time Favors became a member of saxophonist Roscoe Mitchell's band (who evolved into the Art Ensemble in the mid-'60s), he had already established himself on the Chicago jazz scene. A protege of bassists Wilbur Ware and Paul Chambers, Favors recorded with pianist Andrew Hill in 1957. He also played with trumpeters Dizzy Gillespie and Freddie Hubbard. With Mitchell, Favors convened a rehearsal band who essayed the music of Albert Ayler, Art Blakey's Jazz Messengers, Ornette Coleman, and Sonny Rollins. He was a member of Muhal Richard Abrams' Experimental Band in 1961 and began playing regularly with Mitchell in 1966. From that point on The Art Ensemble was his primary outlet, although he played with many other prominent free jazz musicians, including Sunny Murray, Archie Shepp, and Dewey Redman. His recording career was mostly as a sideman, though he did record an album of unaccompanied bass for the Art Ensemble's AECO label in 1977 (Natural and the Spiritual). His 1975 duo set with Abrams (Sightsong) was one of the Black Saint label's earliest releases. Favors, who was diagnosed with pancreatic cancer, passed away early in 2004.
Chris Kelsey, All Music Guide