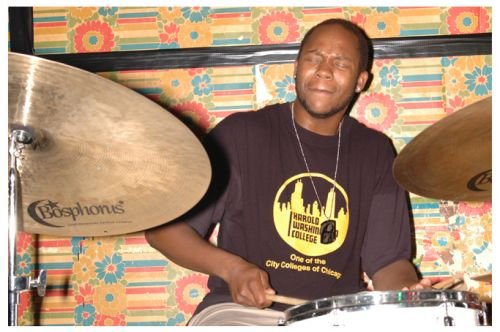 Isaiah Spencer
Isaiah Spencer was born in Chicago, Illinois. Isaiah attended George Manierre Elementary for grade school. In third grade, he joined the elementary school band, but not to play drums. The drums were occupied for his first 3 years, so he played trumpet in the band for this period of time. Isaiah played drums in church on Sundays during this time. During the start of fifth grade, Isaiah got his opportunity to play drums in the band, and excelled. His rapid growth led his band director to recommend him to the MERIT music program, a program for grade and high school students who excel in music to study with professionals in the music field. Isaiah received a tuition-free scholarship to attend The MERIT school.
Isaiah attended Lincoln Park High School, and was accepted into the Fine-Arts Program. He studied music theory and harmony, as well as concert band and orchestra. During his sophomore year he joined the jazz band. Isaiah began to adapt quickly and was recommended to the All-City jazz band where he studied with Dr. Curtis Prince, a well known educator and musician in the Chicago Public School system. He also was part of other well known music programs such as the Ravinia Jazz in the schools program, where he studied with Ernie Adams and Dana Hall. Isaiah was also a part of the Gallery 37 program at the South Shore Cultural Center, where he studied with the world renowned educator Professor Ronald Carter, the current head of the jazz department at Northern Illinois University.
Isaiah attended Roosevelt University for two years, majoring in music performance. He left to pursue music more intensely. After leaving college, Isaiah joined a residency sponsored by Meet The Composers and the Chicago Park District called Live the Spirit. This program enables student musicians to learn more about music composition, the relationship between jazz and other genres such as hip-hop, classical, and blues.
Since 1998, Isaiah has been an active figure in the Chicago scene, while being recognized as one of the young lions like his counterparts and childhood friends Maurice Brown, Corey Wilkes, and Kevin Nabors. His musical prowess and versatility has led him to musicians such as Fred Anderson, William Parker, Ernest Dawkins, and David Murray, as well as more traditional figures including Clark Terry, Von Freeman, Curtis Fuller, and George Freeman. Isaiah now leads the Isaiah Spencer sextet, which has become a local favorite at the Velvet Lounge where they have been performing every Sunday since the re-opening in 2006.