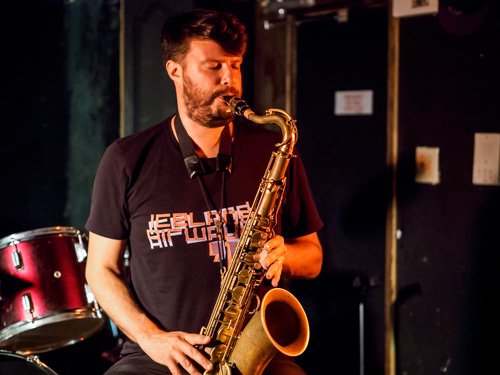 Matt Nelson
Saxophonist Matt Nelson regularly performs in a far-reaching, motley  assortment of musical projects. Described as "one of the more unpredictable    virtuosos in New York's underground" by Pitchfork, and "genre-bending" by  Tiny Mix Tapes, his output often lies in the gray corners beyond categorization. 
Upon graduating from the Oberlin Conservatory under the tutelage of Gary  Bartz and Paul Cohen, Matt moved back to his native Bay Area and became an   active member of the music community there. He performed regularly with   several  bands, among them experimental pop outfit tUnE-yArDs, with whom he  recorded and toured extensively in support of their acclaimed album w h o k i l l. 
​In 2010 Matt relocated to Brooklyn, New York. During his time there he has  performed and toured as a member of Battle Trance, GRID, Elder Ones,  Premature Burial, Skeletons, and the Weasel Walter Large Ensemble. Matt also  performs as a solo act, where he often utilizes electronics and amplified  feedback along with the saxophone, as heard on his record Lower Bottoms.