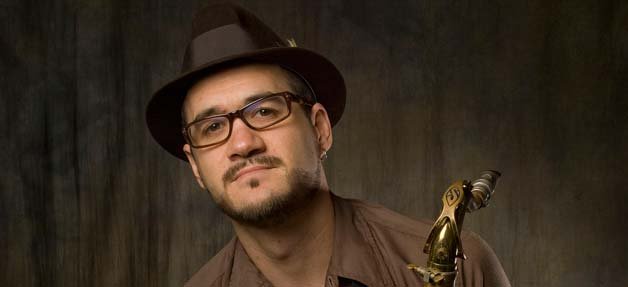 Jay Collins
One of the most sought-after touring musicians in American music, Jay Collins is perhaps best known for his saxophone and flute work with many artists including Gregg Allman, Allman Brothers Band, Levon Helm (of The Band), Donald Fagen and the Dukes of September (w/ Michael McDonald and Boz Scaggs), James Hunter and jazz greats such as the late Andrew Hill, Jacky Terrasson, and the late bassist LeRoy Vinnegar. In recent years, Mr. Collins has also become recognized for his gritty singing and his singular songwriting.
"Collins's soulful croak definitely deserves to be heard" – Time Out, NYC
Coming up as a young player on the late '80s and early '90s music scene in Portland, Oregon, Collins caught what he considers to be the city's last wave of a golden age.
"Lots of jazz musicians from L.A. had migrated there in the '80s for the quality of life," he explains. "You could still learn to play just by hanging around with older musicians, and learning on the job." Collins played some of his first sax gigs with Portland jazz mainstays Ron Steen and Mel Brown then went on to play with West Coast bassist Leroy Vinnegar and to record with hard bop drummer Dick Berk.
After cutting his teeth in Portland, Jay Collins made the move to New York City and quickly became a force to be reckoned with. His focus was hard-hitting instrumental jazz. By 1993 Collins had established himself in New Yorks East Village, assembled a band, and by the end of the '90s had recorded three CDs: Uncommon Threads, Reality Tonic and Cross Culture, all on small independent labels. He recorded and toured with French pianist Jacky Terrasson on Blue Note Records as well as the legendary pianist and composer Andrew Hill, whom he'd first met in his Portland days. "In the East Village in the '90s there was all kinds of music going on.little places with live bands every couple of blocks."
During his time on New York's Lower East Side, Collins also immersed himself in the rhythmically charged world of Latin music. He spent 1996-2004 leading local sensation Mambo Macoco (with master percussionist Eddie Bobe), playing with Nuyorican percussionist Bobby Sanabria Y Ascension, and touring Cuba and the Caribbean. "Learning about Afro-Cuban rhythms and their connection to American and New Orleans music are the keys to what I'm doing now," says Collins.
"This robust tenor saxophonist is a great example of a player whose varied experiences nurture a deeper musical personality." – Village Voice, NYC
In 1999 Collins felt the pull to change musical direction; he formed a new band and began to move beyond the boundaries of instrumental jazz. "I needed something more. I was into experimental jazz and had always liked words and poetry, so at first I tried putting my poetry to music," he says, though he had never actually sung in public until he was 30 years old. "At first, my idea was to have someone else sing, but then I decided to take singing lessons and do it myself. " Collins also kept up his sax and flute chops as a sideman while working out his original songs and vocals on piano. Ironically, it was while playing a jazz gig that he was recommended for a spot with legendary rocker Gregg Allman of the Allman Brothers Band.
The new gig with Gregg helped convince Jay to develop his singing voice further, and embrace another direction towards blues-based rock. It was a natural move, for Jay had grown up playing along with his stepfathers collection of records by blues legends. "I knew the songs of Robert Johnson, Freddie King, B.B. King and the Allman Brothers because I grew up hearing them," he says. "My stepfather is a guitar player, he's African-American, and his record collection was heavy on the blues. Working with Gregg sent me back in that direction. It's also really informed my singing! I've learned a lot just from being onstage, night after night, standing next to such a great singer like Gregg.
It was during this time he started his own group, Jay Collins and the Kings County Band.
In 2004, the first CD by the Jay Collins Band, Poem For Today (Hipbone Records) featured Collins on sax and vocals, Dred Scott on piano and Diego Voglino on drums and Moses Patrou on percussion and backing vocals. "I was still transitioning from instrumental jazz. The vocal influences are mostly Tom Waits, Ray Charles and Dr. John," says Collins.
"With a surprisingly gruff voice, he delivers his rollicking original tunes that blend the down-and-out sensibility of Tom Waits with the barrelhouse American roots sound of The Band."
-San Francisco Chronicle/Contra Costa Times (CA)
At the recording sessions, Collins met vocalist Amy Helm (Ollabelle) and went on to join Amy's dad, Levon Helm (the former vocalist and drummer of The Band), as a member of his band, playing at Helm's Midnight Rambles in Woodstock. Jay played on 2 grammy-winning albums with Levon — Electric Dirt (2009), and Ramble at the Ryman (2011).
Working with Levon taught me so much about playing simple! His groove on the drums was relentless and when he sang a song, you believed every word.
Jay self-released his bands 2nd CD, The Songbird and the Pigeon in 2007, and began regularly performing with his band in New York City, up-state NY, and the surrounding Tri-State areas.
While continuing to tour with both Helm and Allman, and front Jay Collins and The Kings County Band, Jay has also worked in the last few years with British neo-soulman James Hunter, singer Ray LaMontagne, drummer Jaimoe (ABB), guitarist/singer Chris Bergson, guitarist Ed Cherry, and toured in 2010 with the Dukes of September (featuring Donald Fagen, Boz Scaggs, and Michael McDonald).
Jays newest (2012) self-released CD is called Rivers, Blues, and Other People, and here is what he says about it:
"I have made my home the last few years in Woodstock, NY, which is an area populated by some of the very finest musicians in America. I feel fortunate to know and play with many of these people, a few of whom happen to be legends of American music! These friends joined me and my group of New York City, aces, the Kings County Band, to record some music in Woodstock in the winter of 2010 at Levon Helm Studios. I was very grateful to have some of my colleagues from Levon's band, Larry Campbell and Jim Weider, there to help us out on a few, and Levon himself even played drums on one! My group, consisting of Scott Sharrard, Dred Scott, Jeff Hanley, Moses Patrou, and Diego Voglino, played brilliantly throughout, with Sharrard contributing some righteous guitar solos. Bruce Katz who, along with Sharrard, is my band-mate in Gregg Allman's group, blessed us with his New Orleans-style piano, and my friend, the great Donald Fagen (the other-half of Steely Dan), put down some strong piano work on ;Waiting For Snow To Come.'"
"Co-producer Charlie Martinez kept things organized by lending us his discerning ears, keeping meticulous notes, and helping out Justin Guip on the engineering duties. Out of the 10 songs we put down, 6 are songs written by myself, and 4 are original arrangements of older, cover songs that we like to play on live gigs.
"Our music has a lot of things in it, so its hard to categorize, but like I always say, good music is just good rhythm, good melody, good harmony, and a little bit of soul!! Im proud of this new recording, and I sincerely hope you enjoy it!"