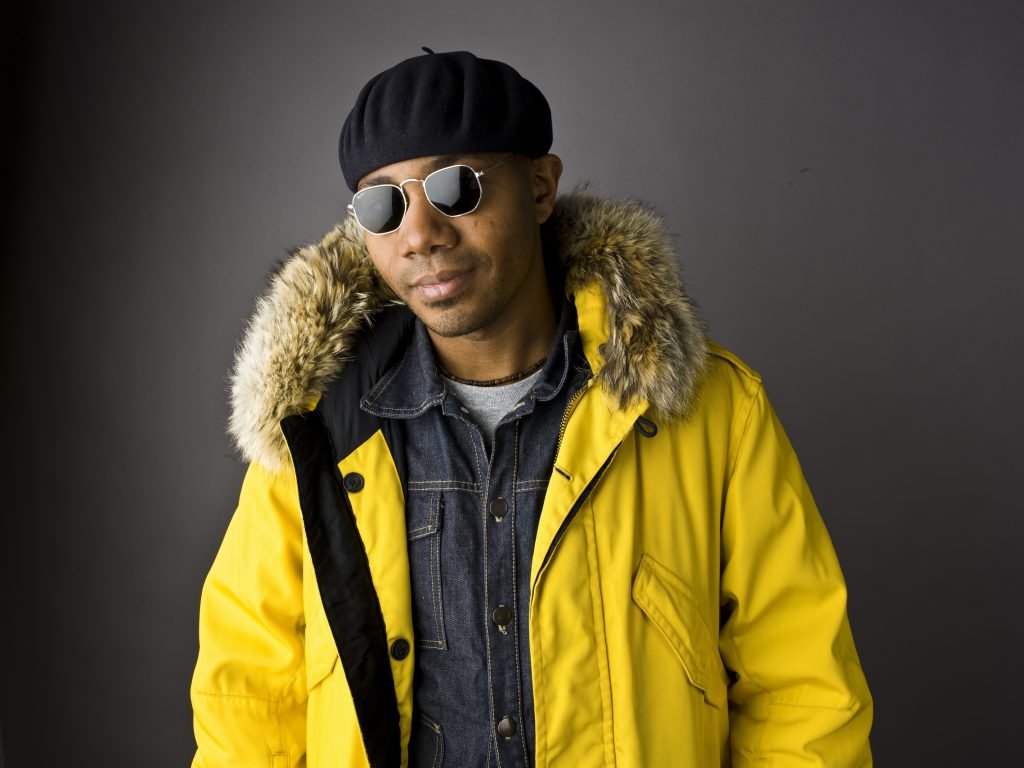 DJ Spooky
DJ Spooky aka Paul D. Miller is a composer, multimedia artist, editor and author. His DJ MIXER iPad app has seen more than 12 million downloads in the last year. In 2012-2013 he is the first artist-in-residence at the Metropolitan Museum of Art in NYC starting this fall. He's produced and composed work for Yoko Ono, Thurston Moore, and scores of artists and award-winning films. Miller's work as a media artist has appeared in the Whitney Biennial; The Venice Biennial for Architecture, the Ludwig Museum in Cologne, Germany; Kunsthalle, Vienna; The Andy Warhol Museum in Pittsburgh and many other museums and galleries. His book Sound Unbound, an anthology of writings on electronic music and digital media is a best-selling title for MIT Press. He has been featured everywhere from Elle to CNN to SyFy.
Miller's deep interest in reggae and dub has resulted in a series of compilations, remixes and collections of material from the vaults of the legendary Jamaican label, Trojan Records. Other releases include Optometry (2002), a jazz project featuring some of the best players in the downtown NYC jazz scene, and Dubtometry (2003) featuring Lee 'Scratch' Perry and Mad Professor. Another of Miller's collaborations, Drums of Death, features Dave Lombardo of Slayer and Chuck D of Public Enemy among others. He also produced material on Yoko Ono's recent album Yes, I'm a Witch.
DJ Spooky's Rebirth of a Nation was commissioned in 2004 by the Lincoln Center Festival; Spoleto Festival USA; Weiner Festwochen; and the Festival d'Automne a Paris. It was the artist's first large-scale multimedia performance piece, and has been performed in venues around the world, from the Sydney Festival to the Herod Atticus Amphitheater, more than fifty times. The DVD version of Rebirth of a Nation was released by Anchor Bay Films/Starz Media in 2008.
DJ Spooky's multimedia performance piece Terra Nova: Sinfonia Antarctica was commissioned by BAM for the 2009 Next Wave Festival; The Hopkins Center/Dartmouth College; UCSB Arts & Lectures; Melbourne International Arts Festival; and the Festival dei 2 Mondi in Spoleto, Italy. With video projections and a score composed by DJ Spooky, performed by a piano quartet, Terra Nova: Sinfornia Antarctica is a portrait of a rapidly transforming continent.
In August 2009, DJ Spooky visited the Republic of Nauru in the Micronesian South Pacific to do research and gather material for The Nauru Elegies: A Portrait in Sound and Hypsographic Architecture., a collaboration with artist/architect Annie Kwon, first presented at Experimenta in Melbourne, Australia in February 2010. In January 2010. Miller was commissioned by German radio to write the composition "Terra Nullius".
In 2011, Miller released a graphic design project exploring the impact of climate change on Antarctica through the prism of digital media and contemporary music compositions that explored the idea of "acoustic portraits" of Antarctica entitled "The Book of Ice" (Thames and Hudson/Mark Batty Publisher). The Book of Ice is includes an introduction by best selling author and quantum physicist Brian Greene, author, The Elegant Universe. The Book of Ice is a multi-media installation, a music composition for string quartet, and a book, and it has been included in the 2011 Gwangju Biennial, by Korean architect Seung H-Sang and Chinese dissident artist Ai Weiwei.
Miller is currently a contributing editor to C-Theory and the Executive Editor of Origin Magazine, which focuses on the intersection of art, yoga and new ideas. He continues his globe-trotting series of live events; playing at festivals from France to Japan to Mexico City; performing solo, with chamber groups, and with orchestras; and giving talks at prominent universities and conferences. He has most recently featured at The Economist "Year in 2012" conference, and for Syfy's "Let's Imagine Greater" Igniter web series.