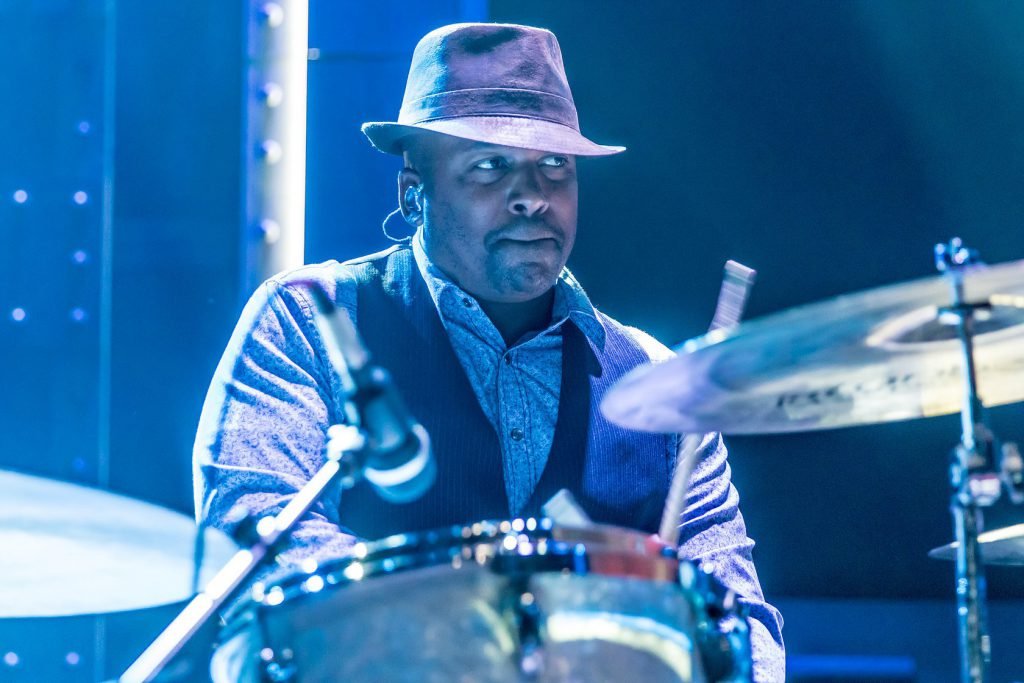 Derrek Philips
By the age of three, Derrek C. Phillips had already amassed a deep passion for music. Since then, he has carved out an exciting musical career as a performer, songwriter, producer and educator.
By the time he was six, his parents deemed it necessary to introduce their youngest son to formal music training.  As his hunger grew,  he spent his formative years involved with several youth orchestras, community theatres and drum corps the Concord Blue Devils drum and bugle corps. As a teenager, he pursued paid gigs with fellow musicians in many genres from jazz to Top 40 and Afro-Cuban to heavy metal.
When it was time to head to college, Derrek planned to set out for the East Coast. This San Francisco native went on to receive his bachelor's degree in music at William Paterson University in Wayne, New Jersey, in 1998. During his time there, he studied under Horacee Arnold, Yoron Israel, John Riley and the late, great Tony Williams. Once he graduated, he found himself thriving in the New York music scene. During this time, Derrek found himself backing such artists like Charlie Hunter, Greg Osby, Dave Douglas, Vijay Iyer and Ronny Jordan.
After several years in New York City, Derrek and his family decided to make Nashville, Tennessee their new home. He currently plays for the legendary Hank Williams Jr as his touring drummer.  Over his tenure in Nashville, he has recorded with  Vanessa Williams, Michael McDonald, Bonnie Tyler, Gloria Gaynor, Tommy Sims, Charlie Peacock, Charlie Hunter, Shelly Fairchild, Seth Walker, Erin Bode and a host of other artists. He has also spent time on stage and on the road with Dr. John, Rachel Lampa, Gretchen Wilson, Jimmy Hall, Delbert McClinton, Irma Thomas, James Otto, Gary Nicholson, Kurt Elling, Even Stevens, Mike Farris, McCrary Sisters, Jack Pearson, Kelleigh Bannen, Dr. Lonnie Smith, Brooke Eden, Morgan Myles, and Lee Fields. Derrek has performed on The Tonight Show with Jimmy Fallon, The View, BET (Black Entertainment Television), CBS Early Morning Show, The American Country Countdown Awards and A Prairie Home Companion with Garrison Keillor. Derrek has also toured throughout the United States, Canada, and Europe, as well as Brazil, Korea, South Africa, Turkey, India, Panama, the Caribbean, and Japan.  
In 2015, he become a Grammy Award winner for his contributions on Mike Farris' Shine For All The People for Best Roots Gospel album of the year. 
Derrek also fronts his own solo project entitled Derrek Phillips' Manufactory. Their music is a unique blend of hip-hop, rock, improv, electronica, drum-n-bass, jazz, and spoken word. Their first outing, Offering is currently out on Rope-a-dope Records.
Derrek Phillips is currently endorsed by Spaun Drums, Istanbul Cymbals, Evans Drumheads, 64 Audio In-ear monitors and Vater Sticks.