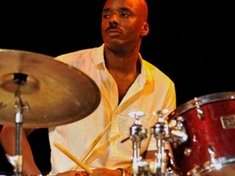 Chad Taylor
Chad Taylor (b. 1973) is a composer, educator, percussionist and scholar who is a co-founder of the Chicago Underground ensembles. Originally from Tempe, AZ, Chad grew up in Chicago where he started performing professionally at the age of 16. Chad has performed with Fred Anderson, Derek Bailey, Cooper-Moore, Pharoah Sanders, Marc Ribot, Peter Brotzmann, Malachi Favors and many others. Chad leads his own band Circle down which debut recording was given a 5 star review by All music:
"What is remarkable is that there is no wasted motion, no histrionics or grandstanding, as pure emotion is translated to superlative music making on this most highly recommended recording, one for the ages." Allmusic.com
Chad has a BFA from the New School in Jazz Performance and a MFA in Jazz Research and History from Rutgers University.