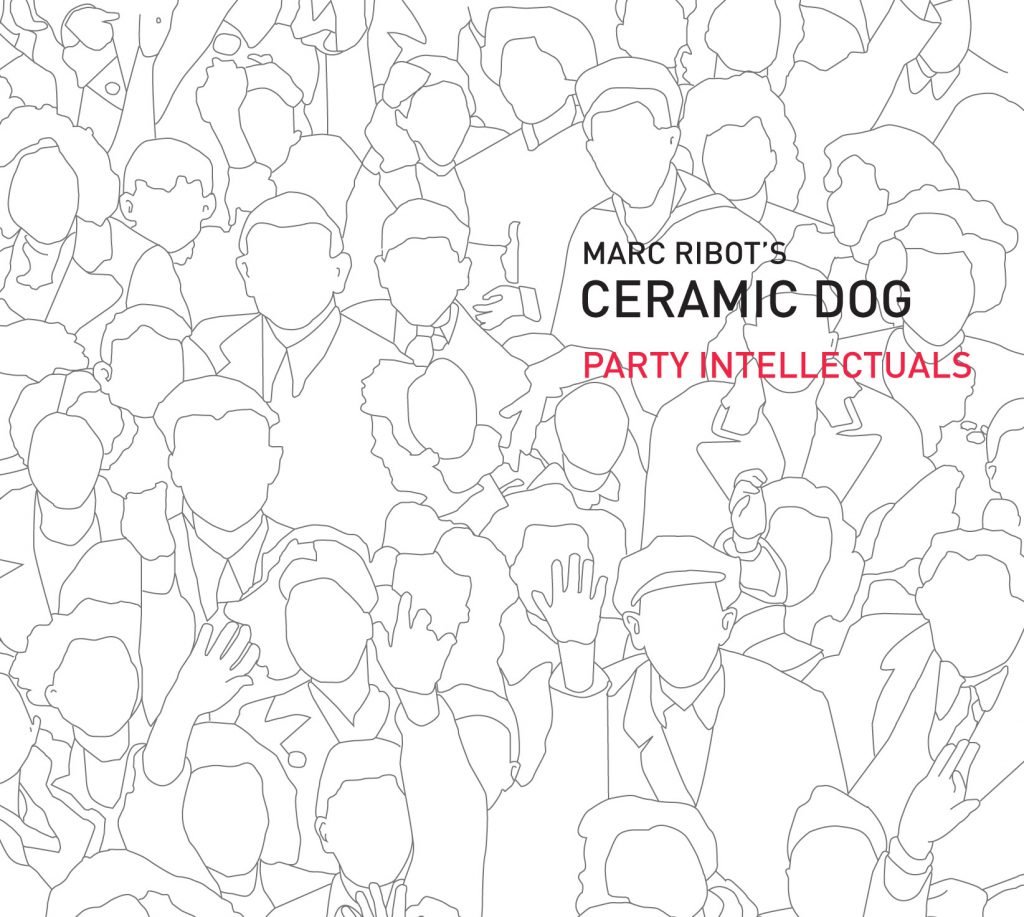 Party Intellectuals
Marc Ribot's Ceramic Dog
Track List
Break On Through

3:44

Party Intellectuals

5:51

Todo es Mundo el Kitsch

5:12

When We Were Young and We Were Freaks

8:19

Digital Handshake

10:15

Bateau

4:15

For Malena

3:20

Pinch

4:44

Girlfriend

3:36

Midost

10:04

Shsh Shsh

5:49

Never Better

3:29
"Even though he solidified his reputation for being equal parts rocker, jazzer and globalist in NYCs nether regions, his latest music could only have been made in the here and now."
— K. Leander Williams, TimeOut New York (http://www.timeout.com/newyork/articles/music/30511/marc-ribots-ceramic-dog)
"[Party Intellectuals] demonstrates Ribot's talent for pulling ordered chaos from his guitar – in some of his best moments, he recalls a late-'70s Jeff Beck."
— Eric Liebetrau, billboard.com (http://www.billboard.com/bbcom/reviews/album_review_display.jsp?vnu_content_id=1003820220)
"The Tom Waits and Alison Krauss/Robert Plant band MVP bolts from an elephantine psycho-delic rip through the Doors Break On Through to the 10-minute soundscape Digital Handshake to the 70s funk echoes of Todo el Mundo Es Kitsch and Pinch to the campy Eurotrash arrangement of For Malena to the ambient SHSH SHSH. Humor, melody, and weirdness rule…"
— Ted Drozdowski, Boston Phoenix  (http://thephoenix.com/Boston/Music/63648-MARK-RIBOTS-CERAMIC-DOG-PARTY-INTELLECTUALS/)
"Whether with Tom Waits, Medeski, Martin, and Wood, or his own band, his carefully crafted tone can by itself create a song's distinctive mood."
— James Nichols, All About Jazz (http://www.allaboutjazz.com/php/article.php?id=25126)
Ceramic Dog
1. chien de faience: expression: frozen with emotion, as in the perfectly still moment before a fight breaks out.
2. Ultimate kitsch object.
3. A free/punk/funk/experimental/psychedelic/post electronica collective,
featuring marc ribot (cubanos postizos, john zorn, tom waits, etc etc), plus
two of the best young players on the new york/california underground
improv/experimental rock scene, shazad ismailly (bass) and chess smith
(drums)
4. Not a 'project': a real band.
"Marc Ribot's new power trio, filled out by the remarkable versatile rhythm team of bassist Shahzad Ismaily and drummer Ches Smith, is his rawest band in ages. (TimeOut NY)
Party Intellectuals is the debut recording from Marc Ribot's Ceramic Dog, a post-everything band combining the energies of two masters of downtown New York City mayhem: guitarist/vocalist  Marc Ribot  (Tom Waits, John Zorn, Robert Plant, T-Bone Burnett, Marianne Faithful, Lounge Lizards, Elvis Costello) and bassist Shahzad Ismaily (Laurie Anderson, Will Oldham, Jolie Holland, Secret Chiefs 3), with West Coast indie/experimental genius drummer Ches Smith (Xiu Xiu, Secret Chiefs 3, Trevor Dunns Trio Convulsant). Ribot is a widely recognized original on the guitar, with influence across multiple genres of music, including rock, jazz, punk, Latin, soul, 80s No-Wave, avant-garde and noise. Ceramic Dog draws all of this, along with Ismaily and Smiths indie / electronica experimentation, into the power-packed "Party Intellectuals".
Ceramic Dog grew out of a post 9-11 bucket list, when Ribot decided to find out what would happen if he did away with the hyphens haunting his earlier projects: the punk-Latin Cubanos Postizos, the punk-experimental Shrek, and the punk-Albert Ayler Spiritual Unity. It took several years of searching before Ribot found, in Ches Smith and Shahzad Ismaily, the rhythm section with the energy for The Thing itself. Says Ribot, "This is the first time since high school I've been in a real rock band. We actually get together to rehearse just for the fun of it, even when we dont have gigs!"
The name Ceramic Dog is from the French expression chien de faence, meaning frozen with emotion like bristling dogs the moment before they fight, or lovers immobilized in one anothers gaze. Live and on Party Intellectuals, the band aims at that intensity, creating hypnotic moments of ecstasy, violence, idiocy, beauty; in other words pure Rock and Roll.